CLRC News for 2004-2005
Archives: 2009 |2008 |2007 | 2006 | 2005
Winter and Spring of 2004–2005
Pilot Program to Strengthen Undergraduate Research Skills
In the Winter and Spring of 2004–2005, the C/LRC Director worked with Gail Martinez, Assistant to the Vice Provost for Undergraduate Studies, in the development of a two–quarter pilot program to strengthen the research skills of Chicana/o, Latina/o, Native undergraduates, through a research methods course coordinated by Julia Kehew, Ph.D. candidate in the History Department, and Graduate Research Assistant for the C/LRC during the fall. Because the class was small, the students received good individual attention. The course provided them with the opportunity to build relationships with faculty, and to learn more about the ways that research is used in academia, writing research grant proposals, presenting at conferences, and the process of writing scholarly articles.
May 11, 2005
La Raza Cultural Days, Chicana/o Studies Symposium
The C/LRC supported La Raza Cultural Days, which featured speakers that created a dialogue between older and new generations of Chicana/o activists. One of the speakers was respected activist Betita Martinez, who highlighted the importance of doing outreach in local communities.
On May 11, 2005
Women of Color Poetry Reading
The C/LRC co–sponsored "Speak Out!" which featured various poets from different communities, including Native American Studies Professor and C/LRC Director, Inés Hernández–Avila. Additional speakers also included Ruby Verifdiano–Ching of Illiteracy, Jocelyn de Leon of Eighth Wonder, and Antoinette "Butterscotch" of Mahogany Poets. This event facilitated a secure space to incorporate different cultures and forms of expression. There was also an open mike at the event, with several undergraduate students reading their own work.
April 30, 2005
Danzantes del Alma de UC Davis, 28th Annual Show
The C/LRC supported "Sembrando Pasión, Cultivando Cultura," a series of dance performance and outreach activities celebrating the traditional and contemporary aspects of Mexican, Chicano, and Latino cultures. As members of Danzantes, student performers learn folklórico and pass on their cultural heritage to the campus and community. The show is a popular event attracting hundreds of Chicano/Latino students and community members each year.
April8–10, 2005
Women of Color Coalition (WOCC), Fourth Annual UC Women of Color Conference
The C/LRC supported "Building Links of Strength: Challenging the Institutions that Divide Us" with keynote speakers, Cherrie Moraga and Margarita Alcantara–Tran. The conference featured a variety of informational and interactive workshops and caucuses including such topics as gender and sexuality. The conference attracted over 400 students, staff and faculty statewide.
March 13, 2005
UC Davis National Organization for Women
the C/LRC supported this year´s conference, "The Mexico Solidarity Network´s Speaking Tour on Feminicide Near the U.S–Mexico border: Hear the Story of one of the Mothers of the Murdered Victims." The C/LRC provided monetary support towards transportation costs to bring women involved with the Ciudad Juarez murders to campus. This event fostered awareness to the university and the general public about the violence towards women in the cities of Juarez and Chihuahua in Mexico and their relationship to U.S trade policies, such as NAFTA. Throughout the conference, UC Davis students had an opportunity to ask the women questions about America´s role in these murders creating a dialogue of creative strategies that strengthen solidarity between people working for social and economic justice on both sides of the U.S–Mexico border.
March 12-13, 2005
Melodies for the Rebellious Earth/Cantos de la Tierra Tremenda
The C/LRC supported a public performance at the Wyatt Pavilion at UC Davis by students in NAS 188: Native American Literature in Performance.
March 5, 2005
"The Journey: Shelley Niro" featured at the C.N. Gorman Museum
The C/LRC co–sponsored the exhibit, "The Journey: Shelley Niro." Photographer and filmmaker Shelley Niro (Bay of Quinte Mohawk) has gained national and international attention by juxtaposing dark humor with historical social issues pertaining to the roles of women, displacement, and colonialism. Niro´s award–winning films include The Shirt (2003) shown at the 2003 Venice Biennale, 2004 Sundance Film Festival, and the National Museum of the American Indian.
Previous Academic Years
TLRC Attends NACCS Annual Conference in Chicago
The CLRC funded students, faculty and staff to attend the twenty-ninth National Association for Chicana & Chicano Studies (NACCS) Annual Conference, which took place in Chicago, Illinois from March 27 to March 30, 2002. The theme of the conference, "Building the New Majority: The Multiple Faces of Chicanas," focused on building dialogue and discourse between males and females, and on the recognition and empowerment of Chicanas within NACCS and other communities.
CLRC Dissertation Fellow Emma R. García presented her paper, "Chicana Super Women Achieving the American Dream: The Representations of Chicana Identity in Popular Texts," as part of a panel addressing historical and popular formations of Chicana identity. Magdalena P. Arceo, an undergraduate student in Chicano Studies, received funding from the C/LRC to attend the conference for networking purposes associated with her research project, "Domestic Violence in the Queer Latino Community." CLRC staff person Lily Aguilar, an undergraduate student in Sociology, attended the conference to distribute information about the Center and sell publications.

PANEL "Chicanas and Mexicanas across the Life Cycle: Women's Identities in the Context of Familia, Work, Comunidad y La Tierra."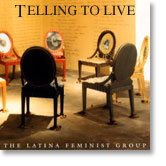 With funds from the Committee on Research, and supplemental support from the CLRC, co-directors Yvette Flores-Ortiz and Inés Hernández-Ávila, and Steering Committee member Beatriz Pesquera conducted a panel discussion entitled "Chicanas and Mexicanas across the Life Cycle: Women's Identities in the Context of Familia, Work, Comunidad y La Tierra." The co-directors also participated in a panel presenting excerpts from the collaborative publication Telling to Live: Latina Feminist Testimonios.
C/LRC Nominee Wins 2002 Teaching Award
The Chicana/Latina Research Center is very proud to announce that Raquel Scherr Salgado, Ph.D., has received this year's Academic Federation (AF) Award for Excellence in Teaching. The C/LRC nominated Professor Scherr for this award, in recognition of her extraordinary dedication to undergraduate education. The day after the Academic Federation recognized Professor Scherr and co-winner Dana Van Liew at the award ceremony on May 30, 2002, the C/LRC celebrated Raquel's achievement at its Quarterly Luncheon.
C/LRC co-director Inés Hernández-Ávila, Ph.D., introduced Professor Scherr to the standing-room-only crowd of students, faculty, staff and other supporters in Cabernet Room of the Silo Union. Quoting from Scherr's statement that, "Learning keeps me teaching. Students brings me fresh ideas, keep me current, keep me curious, keep me thinking, keep me learning, and keep me disturbed," Professor Hernández-Ávila pointed out how the desire to be "disturbed" is the force that drives Scherr's own intellectual curiosity, and the curiosity she inspires in her students. Professor Hernández-Ávila also stressed that, while the C/LRC nominated Professor Scherr for this award in part because of her commitment to addressing the needs of Chicana/o and other "minority" students, Scherr's dedication extends to all students, regardless of background.
In her acceptance speech, Professor Scherr thanked the C/LRC for its "dedication to the teaching and mentoring of young Latina graduates and undergraduates," and recalled the community of Mexicanas, including her mother, who have mentored her throughout her life. "True teaching is experience lived and embodied and translated, and it lives by unfolding itself into the experience and lives of others," she said. Professor Scherr then thanked her students, without whose "spirit, and passion, and genuine curiosity" she would not be the teacher she is becoming. "(T)hey have kept me learning because they keep teaching me." Scherr also showed particular indebtedness to her colleagues, who "have helped me to grow as a teacher by providing a training ground and forum for my ideas and by revealing in their own teaching and work the increasing complexity and integrity of Composition Studies as a legitimate discipline."
Raquel Scherr Salgado, Ph.D., is an English Department lecturer who has served on the C/LRC Steering Committee for the past four years, and has been active with the Center for more than a decade. The C/LRC nominated her for this award because of her extraordinary dedication and determination to teach students the tools to develop their academic and professional voices in ways that empower them to envision and pursue their goals.
The Academic Federation Award for Excellence in Teaching is an annual award given to non-Senate faculty members who demonstrate teaching excellence. Candidates are nominated by a member of the University community, with the support of the nominee's students and colleagues. Award recipients receive an award certificate and a $500 stipend. Upon receiving her check from AF Chair Linda Hughes, Professor Scherr donated the sum to Students Supporting Lecturers, an undergraduate student group organized in support of lecturers, who ended a two-day strike on the day of the award ceremony. Throughout her acceptance speech, Professor Scherr spoke out against the administrative policies that precipitated the strike. What lecturers want, she said, is to teach. "We are simply asking the university to honor the contract that has allowed us to teach.".