MALCS UC Davis campus chapter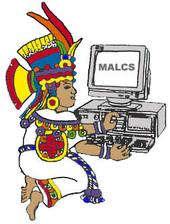 Welcome!
We are an ogranization for Chicanas, Latinas, and indigenous women of the Americas working in academia to support the higher education and professional development on the UC Davis campus. Our primary goals are to support and encourage women's work across the disciplines while also addressing institutionalized forms of inequality and discrimination in academia and the larger society. We offer women across generations a space for creativity, reflection, and solidarity through platicas, mentoring, workshops, and events.
Logo created by Yolanda Lopez
1988 Copyright, MALCS.
Meetings/Platicas
Platicas are informal dialogues amongst the members, designed in a comfortable and safe space for discussion and intellectual exchange. Platicas are integral to the foundation of our organization.
Meetings/Platicas are announced in the calendar below.
More information
We are a Resource on campus!
History of MALCS
MALCS summer institute
MALCS Campus Chapter Event Calendar
Previous Events MALCS Campus Chapter
For more information about MALCS or if you would like to be added to the MALCS listserve, please contact: rvaldovinos@ucdavis.edu or scbarrales@ucdavis.edu
to visit:
MALCS' blog go to http://malcs.net/blog/
MALCS national website please go to http://www.malcs.net/